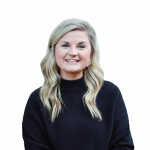 Bailey Weaver
REALTOR® (North Raleigh HyperLocal Agent)
A Little Bit About Me...
I was born and raised in Raleigh, NC and absolutely love calling it home. I am married to my college sweetheart and we have a goofy Yellow Lab named Wyatt. Before making the jump into real estate, I was the top sales rep at a wholesale gift company. Through my extensive customer service experience in retail and wholesale, I learned how to create lasting relationships, how to master the concept of pricing and negotiating, and the importance of building trust - all of which are key in the real estate world. With multiple years as a Realtor under my belt, I take pride in helping my clients achieve their goals of homeownership while educating them on each step of the process. My background, combined with my love of helping people, offers a true advantage when dealing with the fast-paced, detail oriented, competitive Real Estate Industry. My clients may start off as buyers and sellers, but they always end up as family to me.
What Makes Me HyperLocal?
Raleigh, NC holds such a special place to me because I was born and raised here. My NC roots go way back- my dad, grandparents, and great grandparents are from the Fuquay-Varina area (back when Fuquay and Varina were two different towns- now that's a long time ago!). My grandfather developed a large portion of Raleigh so I suppose that is where my love of real estate comes from- it's in my blood. Besides the family aspect, Raleigh is full of fun activities and countless local boutiques, gift shops, and restaurants that bring the community together. These small local businesses create a feeling of togetherness and add diverse personality to our city. If you are considering Raleigh to be your next home, I promise you won't regret it. I can tell you from experience, I live in the same neighborhood I grew up in because I love it that much!
Select an Agent you would like to reach:
Featured Areas
---
I work with a lot of first time home buyers in the Midtown and North Raleigh area. It never fails when I meet a buyer for coffee and I ask what area of the Triangle they want to be in, their answer nine times out of ten is inside the lines of Falls of Neuse Road to Leesville Road and Wakefield to North Hills. That rectangle seems to be the hip place for millennials. Because it is such a desirable place for all, I make it my mission to help first time buyers achieve their goals while fully understanding the investment they are going to make!