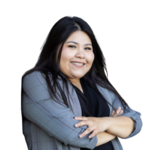 Ana Romero
REALTOR®
A little bit about me...
Ana is a driven individual who is always eager to learn and grow. She has a deep love to help her clients find their dream home. She is a lifelong adventurer who is passionate about exploring the world and discovering new things.
Ana is a natural motivator and enjoys encouraging others to reach their full potential.
In addition to her love for personal growth and helping others, she enjoys working out and staying active. She is a local Turo host, which speaks for her entrepreneurial spirit and hospitality.
Ana's amazing qualities and positive attitude make her an asset to any team or organization she is a part of.
What Makes Me HyperLocal?
Knightdale is a fantastic place to live, with plenty of amenities and natural beauty to enjoy.
The abundance of shopping centers is another significant advantage , making it easy to find everything you need without traveling far from home. The local events and beautiful Knightdale station park add to the community's vibrancy, providing opportunities for residents to come together and enjoy each others company.
Being close to Wendell and Raleigh provides residents with access to even more amenities, entertainment and job opportunities. You get the best of both worlds, it's no wonder why Knightdale is such a popular place to live!